Around this time of year, we are thinking about YEWs. With all the leaves off the trees and all the perennials gone to bed, the evergreen shrubs take the cold winter months as time to show off. They provide structure for the garden throughout the rest of the year, but now they strut their stuff. Hedges can be YEWsed (used) to separate garden beds (short), garden rooms (medium), or as screening (tall). They can be
kept simple, or made to be a feature.
Yews (plants in the botanical genus Taxus) are one of our favorite evergreen shrubs because they are so versatile. Not many evergreens are as forgiving of harsh pruning, so they can be shaped into many interesting forms. One of our favorite uses for shaped yews is for hedges – short or tall, yews can be maintained as a 30" garden partition, or a 12' tall wal
Yews grow best in full sun to part shade, so you may need to look at alternatives for hedging plants depending on your site conditions. Here are some of our other favorite hedging plants:
Prunus laurocerasus 'Schipkaensis' – Schip Laurels (pronounced SKIP Laurels) are also accepting of a harsh pruning and can grow up to 12' tall. They grow best in full sun to part shade, and rich, well-drained soil. They can be planted in full shade, but they might produce foliage that looks skimpier. A related cultivar – Otto Luyken Laurels, or "Ottos" for short, also make a great hedge; However, they are shorter in length and wider than Schip Laurels.
Buxus– Most often used for formal hedges, boxwoods are easy to shape and can thrive in a variety of light conditions. This style of hedging was made popular by the gardens at Versailles and their use continues to this day. A locally well-known boxwood hedge is found in the White House Rose Garden.
Carpinus–Hornbeam, also known as Hop Hornbeam, are trees that can be used for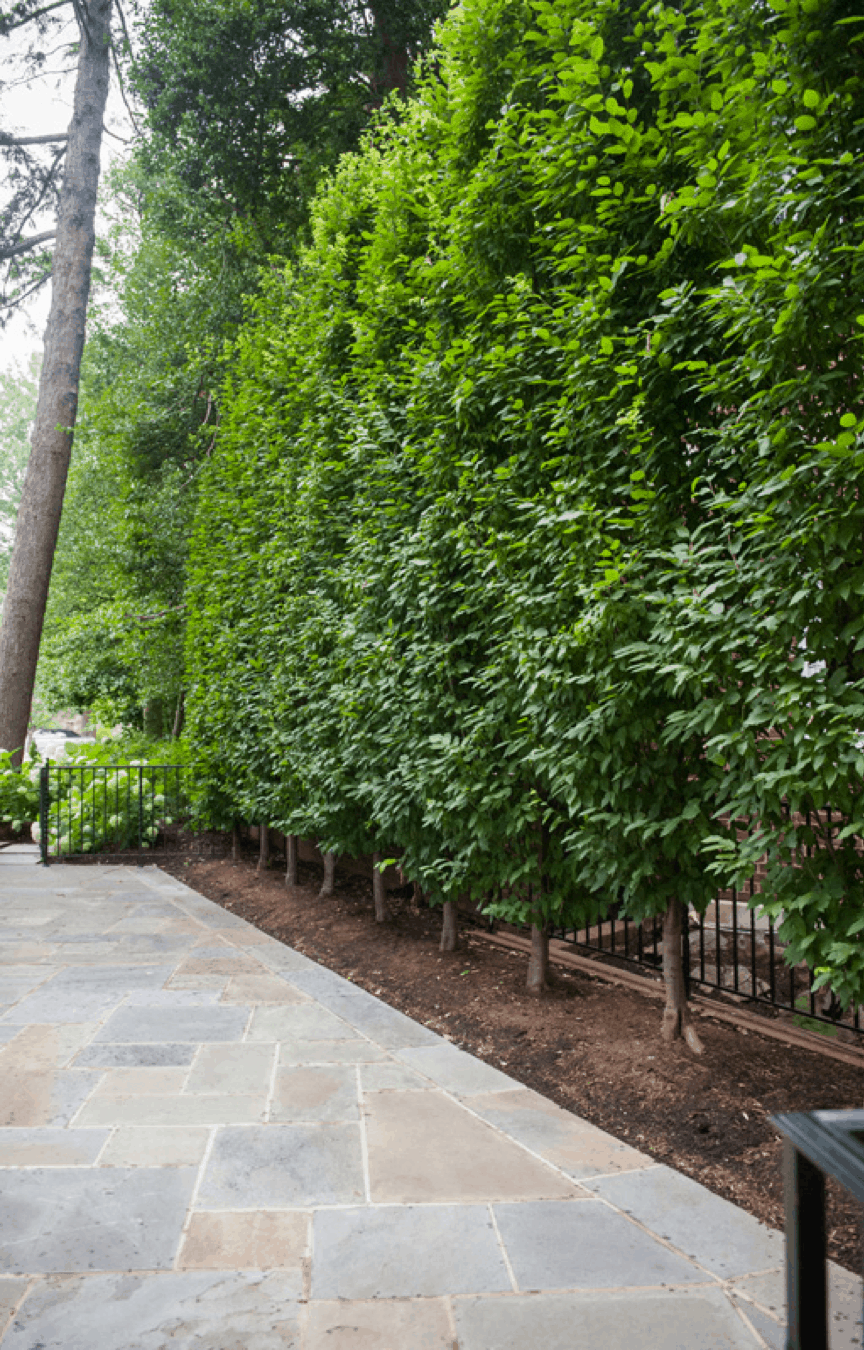 hedging.  They are deciduous – not evergreen – but they hold onto their leaves after they turn brown in the fall, which can make them a useful screening plant. There are European and American species available. The trees can get 20'- 25' tall and they can be pruned to stay quite narrow. Locally, Dumbarton Oaks has a beautiful example of an aerial hornbeam hedge.
Thuja – Arborvitae are a well-known evergreen screening plant. Some stay quite small and narrow: the cultivar 'North Pole' stays about 4' wide and reaches only 10'- 15' tall. Others will get quite large: 'Green Giant' lives up to its name and has the ability to reach 25- 30' tall and 8'- 10' wide. 'Green Giant' also has the advantage of being somewhat deer-resistant, and has the ability to take a skilled pruning.
We'll leave you with this question…
Will YEW be our valentine?
P.S. For more information, here are some links that might be useful:
https://www.doaks.org/visit/garden/explore/ellipse
http://en.chateauversailles.fr/discover/estate/gardens