We bring luxury living outdoors.
Designing and building an outdoor space requires a symphony of components. From the desired mood and color palette to the perfect accents and finest materials, we approach landscape design with the goal of delivering an exquisite, one-of-a-kind outdoor living space. Our award-winning designers, master craftsmen, and artisans transform your outdoor space into something spectacular.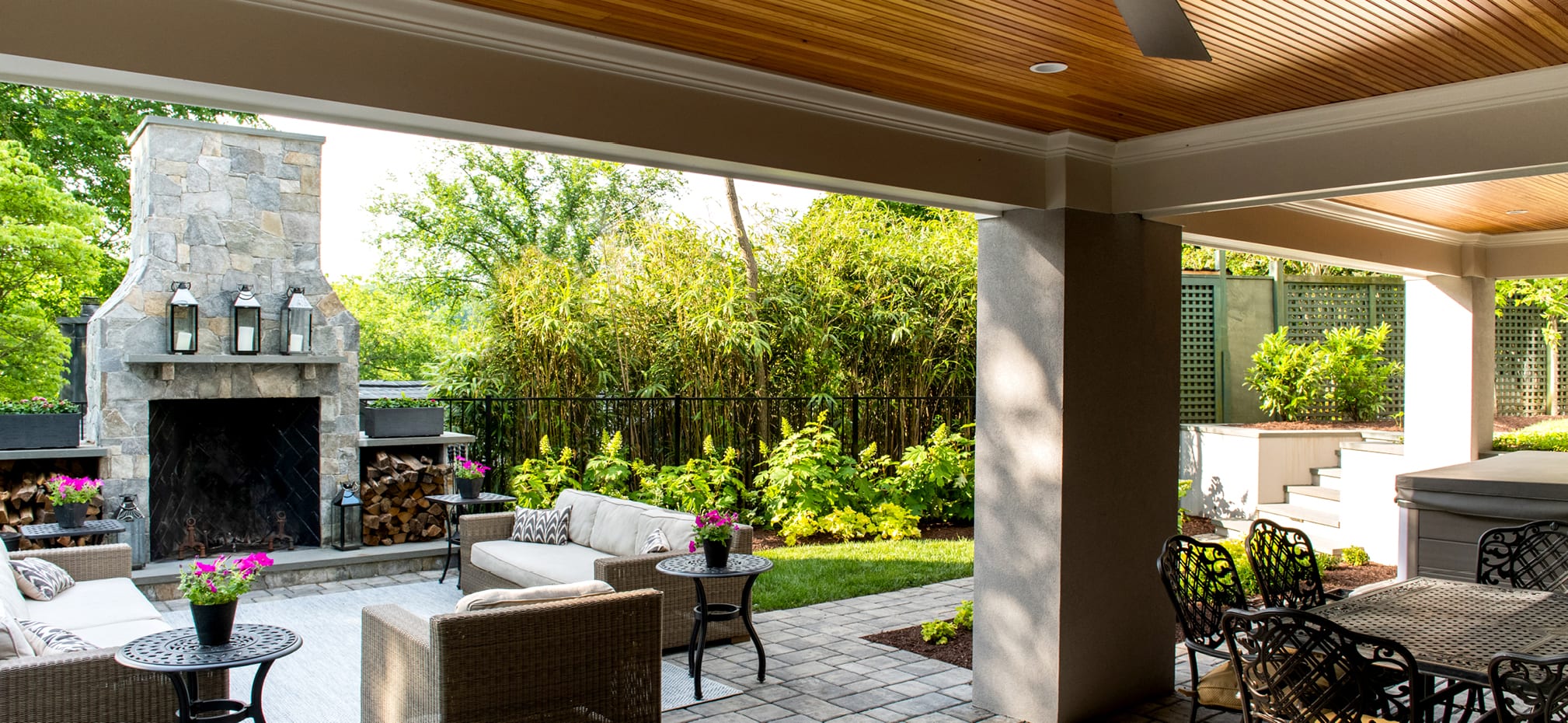 Customized landscape design that perfectly fits your lifestyle.
Our comprehensive design process insures the longevity of your investment. By thoroughly assessing your landscape and its requirements, we are able to formulate solutions, develop ideas, and offer suggestions that you may not have considered. We then combine your wish list with our innovative vision, resulting in a design that embodies everything you want in an outdoor space—and more.
D. A. Dunlevy's custom design services include:
Initial Consultation
Site analysis
Conceptual and schematic design
Elevation and construction documents
3-D Modeling
Coordination with architects and engineers
Permitting and permit drawing services
Master craftsmanship and attention to detail.
Our crews are experienced tradespeople – artisans and masters of their crafts. From custom carpentry, decks and stonework to patios, pergolas and swimming pools, we approach every step of the build with an eye on form and function. You'll find the site is kept neat, and we strive to complete each project without inconveniencing our clients.
We pride ourselves on a professional, seamless build experience based on a proven process:
Pre-Project Meeting – Before construction begins, your designer and project manager meet to ensure every detail has been addressed and every team member is prepared.
Project Implementation – Each project follows a basic order of progress:

Site Preparation: We work quickly and neatly to clear your space and ensure it's ready for construction and installation.
Aboriculture: Our certified arborists evaluate and address any existing trees affected by project implementation and provide necessary care such as tree protection, canopy pruning, root pruning, transplanting, or removal.
Civil and Grading: Proper grading and drainage infrastructure ensure that every property is not only beautiful, but can also handle water runoff.
Foundational and Architectural Elements: At this stage, we begin construction of all design structures which often include custom stonework, ironwork, carpentry, and any other project elements.
Plantings and Softscape: Once construction is complete, we install the landscaping and create the perfect growing conditions for your new plants, flowers and trees.

Project Completion and Maintenance Introduction – After the final installation details are completed, the designer and project manager walk through the property to answer any questions and ensure complete satisfaction. At this time, we introduce you to our garden management team.
Relax in your breathtaking outdoor oasis.
This is the part you were waiting for…your completed outdoor escape. Every handcrafted, custom detail is yours to enjoy – and show off to your friends. We will create a maintenance plan customized for your property's specific needs to keep your new landscape in pristine condition. As your space flourishes and matures, we manage its on-going care and give you peace of mind that your return on investment will continue to increase over time.
Our Comprehensive Garden Management Services include:
Spring and Fall Clean Ups
Lawn Care
Plant Health Care
Seasonal Flower Displays
Tree Care
Irrigation Management
Outdoor Lighting
Leaf Removal