Caladium is a unique accent plant for summer annuals or as tubers planted within a garden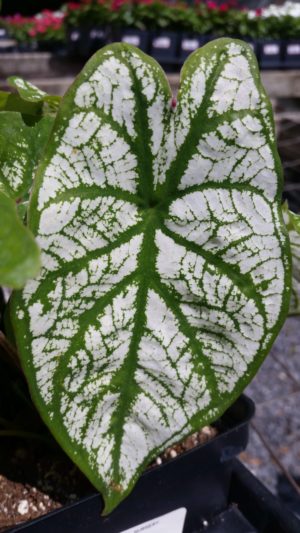 . Large, heart-shaped leaves are available in color combinations of red, pink, rose, white, chartreuse, and green. The foliage is almost translucent, which makes them light up a shaded garden area.
Light Needs: Shade or partial shade
Watering Needs: Keep soil moist
Average Size: 10″ – 14″ tall or larger
Why we love this plant: Many colorful annuals are sun-loving plants, so Caladium is a great option for providing some pop in a green-heavy area in shaded gardens. Caladium is a great companion to Ferns, New Guinea Impatiens, and Begonias, or as accents in pots and window boxes.