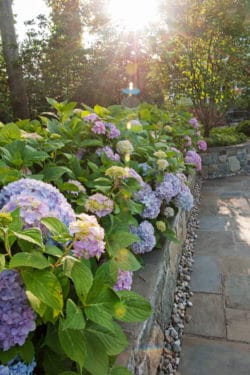 Perhaps the most common species of hydrangea, macrophylla is a very rewarding shrub, suitable for any landscape design in the DC area. Large green foliage is complimented with globe-shaped ("mopheads") or flattened ("lacecap") flowers, pending the cultivar. The beautiful blooms are available in many shades of pink, blue, purple, white, and red throughout the summer. Hydrangea 'Endless Summer' is one of the most common cultivars in the area.
Light Needs: Sun to partial shade
Watering Needs: Moderate, low maintenance upon establishment
Average Size: 3′ to 6′ in height, can grow to 10′, spread 6′ to 10′
Why we love this plant: This showy shrub is a staple to our landscape designs. The bloom colors are unpredictable in nature due to the variance in soil PH. One plant can contain many different shades of flowers, as seen in the picture to the right. Hydrangea macrophylla also makes a great cut flower, perfect for bringing outdoor beauty into the interior of your home.