April is a very exciting month for us! Not only does spring really kick into high gear, but both Earth Day and Arbor Day are celebrated in April too! And what better way to wrap up April than celebrating trees?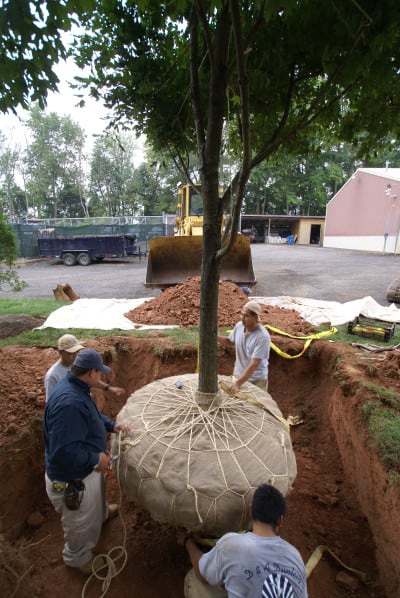 Arbor Day's roots (pun intended), stem all the way back to 1872 when a Nebraksa Territory secretary, J. Sterling Morton, proposed a tree-planting holiday when prizes would be offered to counties and individuals for planting the largest number of trees on the specified date. By 1885, Nebraska was celebrating a legal holiday – Arbor Day – with a grand parade, speech, and tree plantings. Today, Arbor Day is celebrated nationwide on the last Friday in April, although some states celebrate Arbor Day at other times in order to coincide with the ideal timing for tree planting (January and February in the south and May in the far north).
Although we believe trees should be celebrated every day, Arbor Day provides a great reason for planting a tree, raising awareness, and just enjoying the beautiful tree canopy that is part of the Washington Metro area. If you decide to plant a tree, here are some helpful instructions for how to plant on your own:
Identify a Location: Location is everything! If you're planting somewhere other than your own private land, make sure you receive permission to plant there and also take into account who will be providing after care for the tree. Each species of tree is different, so keep in mind soil conditions, water availability, overhead wires, space available to roots, and space available for canopy. Planting a tree should be considered long term – when the tree is 20 years older, will the roots be upsetting a sidewalk or street? Does the tree have enough room to permit healthy and safe growth? Is it far enough away from the nearest building?
Select the Type of Tree: Make sure you pick a tree that will be able to flourish in the location you've selected. Check hardiness zones before choosing the tree to find out what zone the location is in. Tree species can tolerate wet or dry conditions at different degrees, so be sure to account for moisture levels. Light requirements, or "shade tolerance" as termed by foresters, vary by species. Some trees need maximum light to thrive, so consider the existing tree canopy in your location before planting the tree. Select a tree that has a higher tolerance of local insects or diseases, as some species are more susceptible than others. Native species are always a good place to start. Quality of soil and potential air pollutants should also be considered when selecting the tree and/or location. Determining the goal of the planting (to provide shade, to beautify the space, for privacy screening, etc) or the tree characteristics (does it fruit, will it drop leaves/needles, etc) can also be a factor in tree selection. Make sure you are committed to the long term success of your tree – pruning, fertilization, and lightning protection are just some of the things to consider as your tree grows.
Plant the Tree: Trees should be planted based on the root configuration of your tree. Locate planting instructions based on whether the tree has bare roots, is in a container, or has been balled and burlapped. A great planting resource can be located at arborday.org.
Here at D & A Dunlevy Landscapers, we celebrate trees on a daily basis. We love working with our clients to select trees that will beautify their landscape and offering tree services that promote healthy growth. Our certified arborists provide excellent tree care. We've even teamed up with Montgomery County to plant shade trees in the yards of residents and businesses. The Washington Metro Area is truly blessed by the beautiful tree canopy that is unique from most cities. So get out there and celebrate trees!