A recent pond design for a client in D.C. has got us thinking about aquatic plants – specifically, water lilies. Kenilworth Park and Aquatic Gardens recently hosted their annual Lotus and
Water Lily Festival in Northeast D.C. Part of the Anacostia Park, Kenilworth Park serves as a tribute to Old Washington, DC, which was originally a wetland.
Walter Shaw, a Civil War veteran, bought the land in the 1880s to build his water garden, starting with only twelve water lilies. Paths were built to separate ponds from the tidal marsh and the pond gardens were supported by the natural wetland areas. The area not only boasted Shaw's beautiful water gardens, but provided resources derived from cattails as well. Shaw's daughter, Helen, became a world diplomat for water gardening, as well as the joint owner of their commercial enterprise. Along with her brother, she later lobbied and saved their garden home from a river improvement project.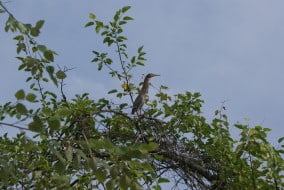 Open year round to the public at no fee, Kenilworth Aquatic Gardens is a great spot for winter bird watching, fall foliage, and, of course, the famous water lilies and large lotus flowers. The best time to see these spectacular flowers is early morning, while the flowers are open, before they close up during mid-day heat. Garden walks, lead by park rangers, are a great way to learn about the unique gardens and the surrounding aquatic environment. Turtles, frogs, a variety of birds, and the native Blue Heron can all be spotted while exploring the park.
Visit Kenilworth Park & Aquatic Gardens for more information on planning your visit.
Photos courtesy of Lynnetta Leach.