By Botteville (Own work) [Public domain], via Wikimedia Commons

"The landscape as a stage set for human drama
— the choreography of serendipity —
is at the core of what Mr. Halprin, the tribal elder of American
landscape architecture, has been creating for more than 50 years."
– Patricia Leigh Brown "For a Shaper of Landscapes, A Cliffhanger," The New York Times, July 10, 2003.
Since we were recently selected to help renovate the Franklin Delano Roosevelt Memorial in D.C., it is only appropriate for us to pay tribute to the Memorial's designer, Lawrence Halprin. Pictured above, Halprin called the FDR Memorial "the apotheosis of all that I have done."
Called "one of the preeminent place-makers of the 20th century" by Smithsonian Magazine, Lawrence Halprin (1916-2009) re-structured the process of landscape design by marrying movement and landscape. Inspired by his wife's involvement with dance and movement, Halprin sought to incorporate the same concepts into landscape design. He developed workshops to involve various members of the community for insight into how spaces affect emotion. This design process allowed Halprin to create landscapes that really involved the individual as they moved throughout the area. Halprin was an innovator, referred to by Charles Birnbaum of Washington's Cultural Landscape Foundation as a trailblazer and one of the most important landscape architects of the modern era. A Halprin design will make you feel involved in the landscape, making it more of an experience than a space.
Several of these notable Halprin spaces illustrate how the community becomes a part of the design:
United Nations Plaza – San Francisco, California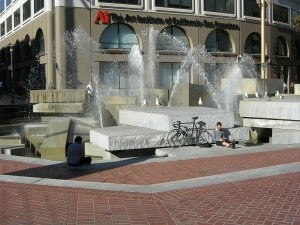 By Sailko [GFDL (http://www.gnu.org/copyleft/fdl.html) or CC-BY-SA-3.0 (http://creativecommons.org/licenses/by-sa/3.0)], via Wikimedia Commons
 Ghirardelli Square Fountain – San Francisco, California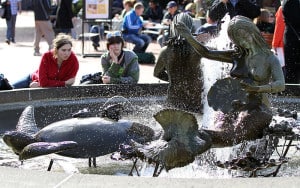 By jjron (Own work) [GFDL 1.2 (http://www.gnu.org/licenses/old-licenses/fdl-1.2.html)], via Wikimedia Commons
Brutalist Fountain – Seattle, Washington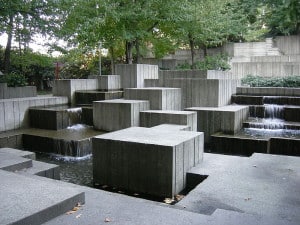 By Joe Mabel (Photo by Joe Mabel) [GFDL (http://www.gnu.org/copyleft/fdl.html) or CC-BY-SA-3.0 (http://creativecommons.org/licenses/by-sa/3.0/)], via Wikimedia Commons
Keller Fountain – Portland, Oregon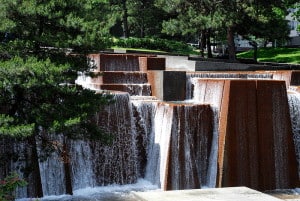 By Victorcmyk (Own work) [CC-BY-SA-3.0 (http://creativecommons.org/licenses/by-sa/3.0) or GFDL (http://www.gnu.org/copyleft/fdl.html)], via Wikimedia Commons