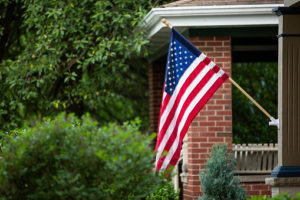 Summer is in full swing, and with July 4th quickly approaching, we're thinking outdoor living spaces, barbecues, and beautiful fireworks! What better way than to celebrate the national holiday than by relaxing on your flagstone patio, grilling, and kicking back with family and friends?
Flagstone is a popular choice for patios, porches, and walkways because of its durability and natural beauty. But once your material is chosen, how do you decide what pattern to use? That determination will take into consideration the style of your home, but it will mostly be based on your personal preference. Here is a list of the most commonly used flagstone patterns:
Random – A series of precisely cut squares and rectangles of various sizes arranged so that the joints are staggered and do not continue in a straight line for very long.

Irregular – Utilizes the natural shape of the stone. The pieces are selected to fit together like a puzzle so that the stone doesn't have to be cut. Stones and joint sizes vary.
Stack Bond – Equally and accurately cut squares stacked in straight lines like a checkerboard. Joints are all of the same size and run in straight lines.

Diagonal Stack Bond – Specifically cut squares, all of equal size, set on 45 degree angles to create a diamond pattern. Joints are all of equal size and run in diagonal lines.

Herringbone – Accurately cut rectangles that are all the same size and set in a 45 or 90 degree interlock.


Running Bond – Accurately cut squares or rectangles that are all of the same size and laid so that the joints are offset by exactly half the width of each stone.

Tudor Pattern – Two sizes of specifically cut squares and one size of rectangle set in an alternating pattern. Joint sizes are all the same size.