We can't tell you how often, when working through the plant pallet portion of the design process, we hear the phrase "NO azaleas… I HATE azaleas."
There are probably a whole host of reasons for this strong reaction to one of the DC region's most classic garden plants. For starters, this is a plant that was overplanted for years in the 60's and 70's; but like any trend in fashion or design, there is a cycle and a repetition that befalls those items that have transcendent style and enduring qualities. Another reason for the Azalea-phobia may be the fact that proper pruning techniques have not been widely practiced and many Azaleas have been allowed to outgrow their intended living space; it is not uncommon to see a 30 year old Azalea that is swallowing the house that they were planted to beautify.
Here are a few thoughts from an Azalea apologist… let's see if they change your perspective:
1. There are a ton of wonderful new Azalea cultivars that produce wonderful displays; here are a few favorites: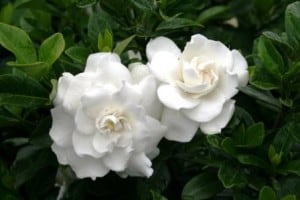 Azalea 'Hardy Gardenia'
Large pure white flowers bloom in midspring and rebloom in fall. Fluffy blooms are attractive to hummingbirds and butterflies. Leaves remain dark green throughout the seasons. The plant will reach 2-4 feet in height by 3 feet wide at maturity.
Azalea 'Conversation Piece'
The Conversation Piece azalea belongs to the Robin Hill group. This group of azaleas is known for multi-season blooming and large flowers on hardy plants. Flower size on Conversation Piece can be nearly 4 inches across. A unique feature of Conversation Piece is that flowers of different colors appear on the same plant. Flower colors range from dark pink to nearly white to variegated pink and white with darker pink center blotches on the same plant. Flowering occurs in fall and again in spring. Plants grow 3-5 feet tall by 3-5 feet wide.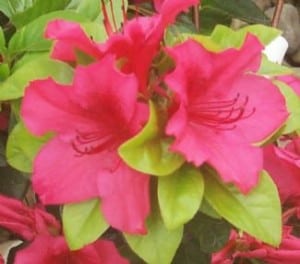 Azalea 'Girard's Crimson'
'Girard's Crimson' is an evergreen azalea (Girard hybrid) that features crimson red to purplish-red flowers, each with a vivid red blotch. It typically matures over time in a rounded compact form to 2-4 feet tall and to 3-4 feet wide. Single, funnel-shaped flowers (to 2 1/2 inches across) bloom in clusters in mid-season to late-mid-season (May). Glossy, dark green leaves are evergreen.
2. It is really hard to find plants that are both evergreen AND have showy flowers. So often, customers tend to either be flower heavy (which produces a bare display in the winter) or evergreen heavy (and suffer from a lack of flowery interest). Azalea provide a perfect opportunity to have your cake and eat it too.
3. Proper pruning helps Azalea to flower heavy (they flower better on old growth) and produces a shape that accentuates their display. No longer should homeowners let their Azaleas outgrow the intended space. See this photo of an Azalea grouping at one of our customers: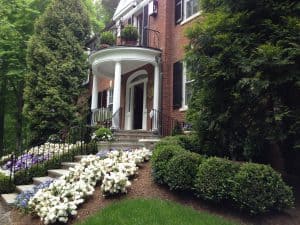 4. Azaleas grow well in the shade. Anyone with a shady area in their yard knows that it is hard work to make them showy. Azalea provide a great option for these situations. 
5. When they flower, there is no rival to an Azalea display. It is a relatively short bloom period, but it is worth the wait; it is like an annual family vacation, it never seems like enough time, but that week every year can provide more enjoyment than the other 51 weeks. Azalea can give you a burst of brilliance powerful enough to render the mundane winter months before it irrelevant. Check out the beauty of the Azalea display at Augusta National.